Is Your Job Making You Fat?
(Or worse: Are YOU making your employees fat?)
While what we do at home is certainly important, let's face it, most of us are spending a high percentage of our waking hours at work. And when work has donuts at meetings, candy at holidays, seemingly non-stop birthday cake in the break room, compounded by hours of sitting…it's easy to say, "My job is making me fat!"
On the flip side, when the office culture supports morning meetings with mini whole-grain bagels instead of donuts, break rooms that feature fruit and nuts, and coworkers who choose veggie-forward fare for lunch instead of typical fast food, our personal health goals can be much easier to achieve. That success climbs even higher when break time can be used for walking or stair climbing or when coworkers can dedicate 30 minutes after work for fun fitness time together.
How can you make your worksite a "Healthy Workplace?"
Read on to discover three major ways to get you started.
1. Take matters into your own hands.
Keep a fruit bowl on your desk, refill every Monday. While a variety of fruit is nice, also try a week with all apples or all pears, but of various types. Another week's bowl could be filled with cuties, and another with kiwi. (Slice in half, scoop out with a spoon). If fresh fruit is problematic, try individual boxes of raisins or bags of dried fruit. Be prepared for all the friends you will make when your "fruit bowl" becomes as popular as a candy dish!
Pack your lunch. Bring your "planned-over" healthy dinner as your lunch. (That's planned for leftovers taken from a big batch of dinner entrée and salad.) Let your coworkers be envious of the amazing aromas as you warm up your veggie-forward soups and stews, accompanied by a yummy salad. Find awesome recipes here.
Recruit a walking group. Be the enthusiastic initiator, people will follow. Gradually work them into a regular schedule at lunch, or just before or just after work. Have an indoor option for inclement weather. Keep the "walk banter" positive and encouraging.
Bring water to work daily and keep it with you always. Discovering your favorite water bottles will make all the difference in getting this habit to stick. I prepare at least one bottle with room temperature water, and one with ice and citrus slices. Making this each morning is as essential to starting my day as making a cup of coffee!
Ignite your metabolism and brain with movement. Before starting work, do a few minutes of jumping jacks, leg lifts, squats, lunges, stretches or brisk walking. Repeat during quick breaks throughout the day. Again, don't be afraid of becoming known as "that guy" or "that gal." If fact, let your "crazy like a fox" habit be infectious. Grab a co-worker and follow along with my Desk Exercise and Stretch video!
Initiate a "tasting is believing" healthy potluck lunch. Maybe once a season, or as often as once a month (to celebrate birthdays), suggest not just a potluck, but a healthy potluck. Consider printing off a stack of healthy recipes, inviting people to pick one to make. (Get started with the free recipes posted at https://zonya.com/recipes/ and https://eatrealamerica.com/free-recipes/.)
Bring a "veggie bag" every Monday to stash in the fridge. Think carrots, celery, slices of multi-colored peppers, cherry tomatoes, snow peas, cauliflower, broccoli… you get the idea! (Quick tip: keep a folded paper towel in your bag to absorb moisture, and your veggies will stay fresh longer.) Haul out your bag to help fill in meals and snacks healthfully throughout the week. Even if it's pizza day, your veggie bag comes to the rescue to keep your pizza slices down and disease-fighting nutrients up. YEAH! (Oh, and don't forget the hummus to share!)
2. If your workplace offers wellness screenings and classes—JOIN IN!
I am often surprised by how many people struggle with chronic health challenges, yet they don't take advantage of the wellness solutions their employer offers. Why is that? If that's you… Change your "no" into a "yes" RIGHT NOW. Take the first step and JOIN IN! From smoking cessation programs to Zumba, Yoga, or nutrition classes, take advantage and participate. It's no understatement to say…a wellness program can change your life!
3. If your worksite doesn't currently offer a wellness program that interests you—ASK!
Whether your employer currently offers nothing, a little or a lot, if they don't offer a program you want, ask! And if you like my teaching style, you might be happy to know I have created TWO wellness programs that are each effective in managing weight, blood sugar, blood pressure and cholesterol.
To suggest my programs to your employer, send them here. If you'd like to invest in yourself, read on below to learn how you can join my community of learners.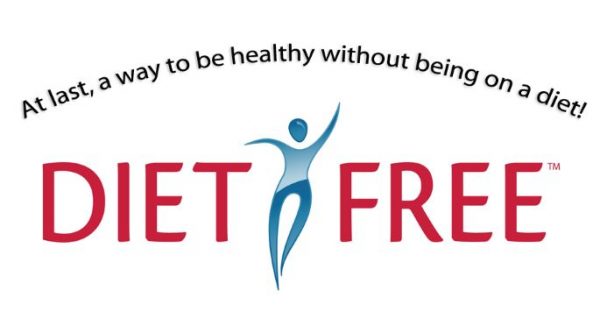 Adopt one nutrition and one exercise habit at a time with my Eight Habits That Will Change Your Life!
"Being a nurse, I already knew about healthy living, but DIET FREE made me look at everything differently. I've now lost 25 pounds, my cholesterol is down 50 points, and I feel amazing!"
Roll up your sleeves and take your kitchen skills to next level… with disease-fighting deliciousness!
"Learning why and how to eat delicious, unprocessed food was what I needed to complete my 60-pound weight loss journey."

So, let me ask you again. Is Your Job Making You Fat?
NOT ANYMORE…when you take these ideas and RUN with them. 😉
P.S. Looking for a speaker to address these topics and more at an upcoming conference? Or are you looking to ignite wellness at your worksite? I'd be honored to customize a perfect presentation (live or via webinar) that meets the needs of your organization. Contact me here.