The First Step Is A Doozy
In this guest blog, Debbie shares how she used healthy food, the right supplements, and regular exercise to break free from the funk.  Let's see how she went from Debbie Downer to Debbie Doer.
When I first signed up to take DIET FREE with Zonya, I was an unemployed single mom. The trauma of my divorce had knocked me down and before I could figure out how to get back up again, I was laid off. The funk was real. And the only coping skill in my repertoire was to eat away my feelings. You can imagine how well that worked.
Pizza and drive-thru meals were on steady rotation. Fruits and veggies came to my refrigerator to die. The ingredients in my pantry mocked me as their expiration dates turned old enough to attend pre-school. I was in a never-ending cycle of headaches that only caffeine would help. My clothes didn't fit anymore. And the house most certainly wasn't cleaning itself. There were days when my biggest achievement was opening the curtain to let the sun in.
I was stuck in the muck.
Zonya to the Rescue?
I knew Zonya from her series on PBS. I already had her cookbook, Lickety Split Meals, and shared her recipe for beef barley soup whenever anyone asked for my favorite soup recipe. I needed help and I hoped that she would be able to help me un-funk myself.
Turns out she would. She was my knight in shining workout gear.
It didn't all change overnight.  In fact, for the first few weeks of DIET FREE, I was still stuck.  Not able to lift myself out of the chair to make a healthy meal.  Hoping that if I just kept my camera off during our DIET FREE webinars, Zonya wouldn't call on me.
But then something horrible and miraculous kicked me into gear.  I had purchased a new winter coat in a larger size (UGH!) and when it arrived, it didn't fit.  I knew it was time to get real.
Little by little we added good habits to my toolbox and kicked the bad ones to the curb.
I switched from pop to water and the headaches went away.

I learned to cry when I was sad, instead of stuffing my face to numb the pain.

I used happy music to lift my mood, instead of downing the nearest pint of ice cream.

I started eating a salad every day.
And then COVID happened.
When the world turned upside-down with the pandemic, I stumbled, too. The amazing thing was, though, that I had built up enough good habits, I was more resilient. I stumbled, but I didn't fall. I even learned that on the days when the stress was too much, the best medicine was a walk with my dog, Charlie.
Through it all, Zonya was my biggest cheerleader. The livestreams from her kitchen were the highlight of my week. The support I received from the community in her Facebook group was priceless. And the collection of recipes she offers with EatRealAmerica.com became the foundation for my transition to healthy, homecooked meals.
Goal Smashers R Us!
As I reflect on what I have accomplished in a little over a year, I am amazed. I'm still learning and it's still a journey, but my small successes led to major, lasting changes.
I have been plant-based for over six months.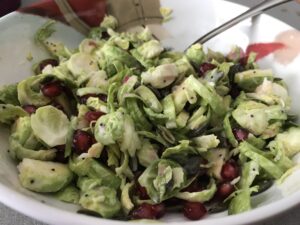 I achieved my goal of exercising every day in 2020.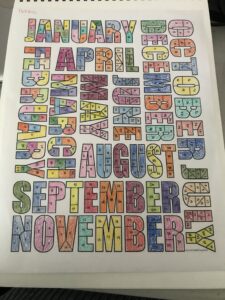 I smashed my goal of cooking 50 new recipes in the year leading up to my 50th birthday.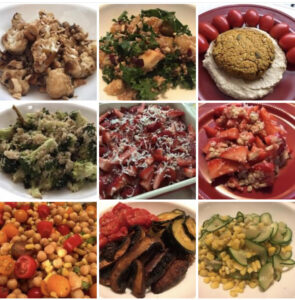 I am a different person now than I was a year ago. I have the energy to prepare healthy meals every day. (No more veggie funerals in my fridge!) I am stronger, more flexible, and have better balance. (Charlie gives that two paws up, because it means I'll play fetch with him!)  My bum knee isn't a bum anymore. (Stairs don't scare me now!) And I have energy to tackle projects around the house. (Yes, I DID clean out my pantry!)
I believe in the power of healthy food, the right supplements, and regular exercise, because it's what got me here today.
Are you ready to get unstuck? I participated in Zonya's 4-part series, How Greens Fight the Blues, and I recommend it for anyone looking to similarly emerge from the muck. It is now a recorded class that you can enjoy at your convenience online – why not check it out?
Your friend in good health,
Debbie DOER