DIET FREE Tools for Success
The DIET FREE Program has all the resources you need to adopt a truly healthy lifestyle!
DIET FREE Video Seminars*
Zonya coaches you through each of her eight habits with inspiring, "edutaining" seminars full of energy, visual humor and tons of nutrition and exercise tips. Whether you watch the seminars online through the DIETFREE.com portal or via DVD, as part of a group session or at your own convenience, you will enjoy participating right along with the video audience! Watch video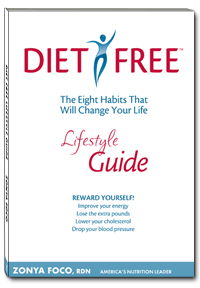 DIET FREE Lifestyle Guide*
Each chapter in the Lifestyle Guide corresponds with each of the habit segments in the DIET FREE Video Seminars. (128 pages). Look inside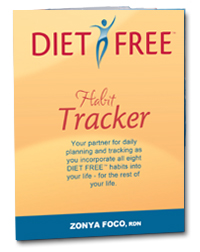 DIET FREE Habit Tracker
This 30-day pocket-sized Habit Tracker will help you plan and track daily, weekly and monthly changes over time. Look inside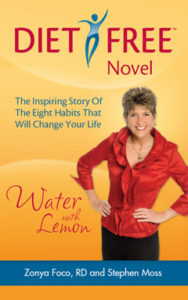 DIET FREE Novel, Water with Lemon
This emotionally charged story creates a readiness for change and "I can" inspiration like nothing else. Read a Chapter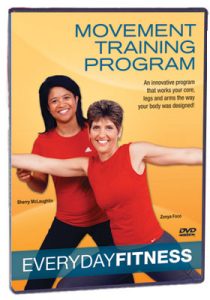 Everyday Fitness: Movement Training Program
Don't let pain and discomfort keep you from reaching your fitness goals. Join Zonya as she follows along with Movement Training Specialist Sherry McLaughlin in this unique core-strengthening program, available for stream or download through the DIETFREE.com portal.  Watch video
DIET FREE Audio Seminars*
Repetition of the DIET FREE concepts spells success. Stream or download the audio version of the seminars through the DIETFREE.com portal. Listen while in your car, at your computer, or while making dinner, cleaning or exercising.
Lickety-Split Meals cookbook

All the recipes in Zonya's "countertop-coach cookbook" help you enjoy eating the DIET FREE way! She has made it easy and time-saving for you to prepare delicious and healthy family-favorites that will help you Tame your sweet tooth, Find the fats and Replace processed food with wholesome. You'll even find time to exercise with the "oven-exercise-eat" recipes! Look inside
*The DIET FREE Video Seminars, DIET FREE Lifestyle Guide and DIET FREE Audio Seminars are not sold separately.