ABOUT ZONYA
Inspiring Everyday Health
Zonya lives healthy out-loud by championing the very lifestyle habits that are known to magnify health. With humor, passion and eye-popping demos and stories, Zonya turns light bulbs on, and keeps them shining well beyond the end of her programs.
Thirty-year veteran Registered Dietitian & Nutritionist Zonya Foco is one of the most exciting, inspiring, vital and unforgettable speakers in America. In 1998, Zonya published her kitchen countertop coach cookbook, Lickety-Split Meals, and Lickety-Split Diabetic Meals, and has since sold over a quarter-million copies. In 2005, she started her national Public Television series, Zonya's Health Bites, and served as an expert presenter for "Oprah & Bob's Best Life Challenge." In 2012, she launched her nutrition and fitness program, DIET FREE, which has improved the wellness of individuals and worksites across America. In 2018, she co-authored Eat REAL Cookbook, and its accompanying worksite program, Eat REAL for Your Health, which builds the skill and inspiration to gain REAL health, eating REAL food.
Zonya's Weight Loss Story
Zonya was a trim kid until the summer before her junior year in high school. As a cheerleader positioned in the middle of her team's human pyramid, her extra 20 pounds led her teammates to complain loud and clear, "Zonya, go on a diet!"
"I have to lose 20 pounds by Friday's game!" Zonya pleaded to her mother. Together they concocted a crazy weight loss scheme of fasting combined with a liquid diet. Zonya soon learned (as many do) that dieting is an effective way to gain weight.
After two years of fluctuating weight, Zonya attended her first college nutrition class. From that point on, she dedicated herself to the principles of good nutrition. Yet, even with growing knowledge, the stresses of college found her graduating at her highest weight yet. She had learned first-hand that "knowing is NOT the same as doing!"
On-the-Job Training
As a clinical nutritionist at St. Joseph Mercy Hospital in Ann Arbor, MI, Zonya experienced her client's struggles and successes, as well as her own. It was at this time that the pieces of the permanent weight-loss puzzle began to reveal themselves, and Zonya's DIET FREE habits were born.
Spreading the News
Zonya began teaching her actionable habits from her speaking and television platforms, then adapted the habits for worksite wellness programming. Since then, Zonya's presentations, books, and DIET FREE and Eat REAL for Your Health programs have provided outreach to individuals, families and worksites across the country, transforming them with smart nutrition, everyday exercise and commonsense core habits.
Contact us to learn how Zonya's passion and expertise can supercharge the health of your audience, community or worksite.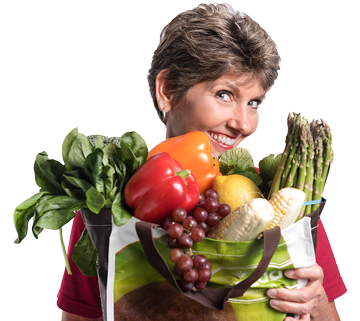 Keep Your Healthy On!
Maximize your energy and health with real-life nutrition and exercise solutions!
Let me drop into your inbox with a tip, recipe or video to inspire your everyday health.