Hot Topics in Nutrition and Program of Your Choice
In rapid-fire fashion, you'll hear the pros, cons and the bottom-line on everything hot in nutrition like:
Should I buy organic?
Does processed meat cause cancer?
Is high fructose corn syrup worse than sugar?
Do artificial sweeteners cause health problems?
Are artificial food colors problematic?
Is coconut oil good for you after all?
Finally, you will kick confusion to the curb and leave this session feeling confident to feed yourself and your family the best fuel for life.
BONUS: This presentation kicks off the opportunity for continued learning and inspiration. Join in and make this your healthiest year yet!
This presentation can easily kick off DIET FREE, Eat REAL for Your Health, your own wellness program or a series of custom short educational video clips we create just for your audience.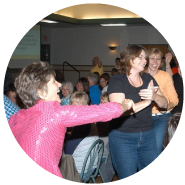 "We are absolutely delighted at the tremendous response in having Zonya kick off our 'Heart of the Community' initiative."
– Jaime Collins, Southwest Health Center Director of Marketing & Communications, Wisconsin
"We've had Zonya present 4 years in a row. Her keynotes, breakouts and mainstage energy breaks always get top evaluation scores and comments. Here are comments on her 'Hot Topics in Nutrition' presentation:
Such fantastic energy from Zonya! Her session was packed full of great information that I can bring back to my organization. I also gained a connection for obtaining continuing information from her by signing up for her newsletter. I would love more of these types of sessions.
Zonya is passionate about nutrition and her session was FUN. She was the only presenter that I requested further information from.
This was my favorite session of the entire conference! Zonya's presentations are entertaining and educational. She is a reliable nutrition expert in a world of confusing and conflicting information. Please keep her coming back every year!"
– Jennifer George, Director, Conferences and Conference Center Management, Indiana Health and Wellness Summit / Indiana Chamber of Commerce